Q&A With Dan Petroski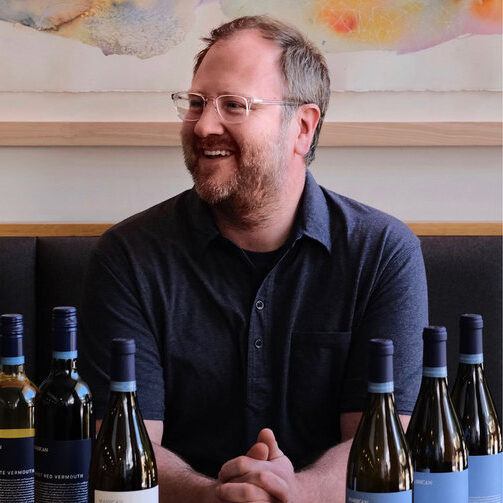 ---
A Napa Register Feature
---
ST. HELENA, MARCH 2023 — Dan Petroski is the rare winemaker producing solely white wines in the Napa Valley — and he's using regionally uncommon grapes to do so.
His grape variety choices are not all that set his Massican wines apart from those of his peers. His marketing strategy is also distinct.
Petroski had a previous decade-long career in magazine publishing and is using his business acumen to push the boundaries of wine marketing. He promotes his cookbook "A Mediterranean Dinner Party" on Instagram and TikTok, and during the COVID-19 pandemic he returned to his publishing roots and launched a lifestyle magazine.
Currently Massican's average customer is 49 years old and more often male, but Petroski has recently noticed his consumer demographics trending younger and more female. This is partly why last week he asked ChatGPT, an artificial intelligence language processing program, to craft his latest wine release newsletter in the style of Gwyneth Paltrow's Goop — the newsletter suggests his 2022 Gemina pairs nicely with the Sicily-based second season of HBO's "The White Lotus."
Petroski's newly released wines come with digital collectibles known as non-fungible tokens, or NFTs. This spring he is planning the planting and growth of a vineyard on a blockchain. And a year from now, he expects to have Bar Massican, a digital bar in the metaverse where he hopes to use the technology of the future to transport customers to European bars of the past — think of the early 2000s video game The Sims meeting AI, only swapping out the clunky virtual reality goggles for a glass of wine.
The Brooklyn native sat down with the Napa Valley Register over a double espresso to discuss how he fell in love with wine and launched one of Napa's most singular wine brands.
How did you become interested in wine?
I got interested in wine through a relationship with a friend in Los Angeles who would come to New York and would wax poetic about a wine we were drinking with dinner. So I started reading more about wine, learning more about what wine is and who these producers are.
Working in publishing, going out to dinner in New York City — I was in my 20s, with a corporate card, entertaining clients — I needed to understand what I was ordering. So I became the "wine guy" amongst my peers and my circle of friends.
When did you pivot from a career in publishing to winemaking?
I was working at Time Inc. for 10 years and was offered an opportunity to work at the Wall Street Journal. I loved magazines and Time Inc. so much, I said to myself, "if I leave magazines, I have to make a big move." I was going to go to the Wall Street Journal because it paid more. But then I said, "Screw it."
I made a phone call to an Italian (New York University) business school classmate to see if I could go work on a vineyard. My friend's friend said, "Come on over." So I did a year-long sabbatical in Sicily working on the vineyard and traveling.
How did you end up in napa valley?
I returned to the states looking at wine sales and marketing jobs in New York, but nothing was available. I came out to California to meet a few people and learned about harvest internships.
I ended up at DuMOL (a winery in Windsor) as a harvest intern working for Andy Smith, who was the consulting winemaker at Larkmead the year before. They needed somebody there at the time. Andy liked my work ethic and my curiosity and he gave me a chance to be the cellar master at Larkmead in 2007. I kind of climbed the ladder from there.
Can you tell me about massican's inception?
When I moved here in 2006, I inundated myself — fully immersed myself in Napa Cabernet.
As time wore on, I felt weird being in a similar climate to the Mediterranean but drinking completely different. In Italy, the wine and the food matched the climactic conditions. Here, we didn't care about that. Here, it was 80 degrees at 8 p.m. in July and we were drinking big, rich, bold — and delicious — red wines. Even the white wines were big.
I also was trying to understand the business of wine. I wrote a business plan for Napa Cabernet and sent it to my business school buddies. They said, "This is a dumb business. You have five- or six-years' worth of investment before you start to see revenue paid out."
So I flipped the model to white wine — a cash flow model — and in 2009 my business school friend, Massimo, who got me the job in Italy said, "Let's make wine."
The sole intention was to make white table wines in a Mediterranean style for the Napa Valley climate.
Was it difficult to source the grape varieties you wanted to work with?
The North Bay wine culture has an immigrant history. Immigrants brought their cultures to this community. The culture was very diverse, as were the grapes here. Then Prohibition happened and minimized everything. But some of the varieties remain.
I got access to crazy, weird varieties by looking at the California grape crush reports, doing some Google searches, finding farmers, calling friends of friends.
Are there any new varieties you'd like to add to your portfolio?
Twenty-twenty-two is the year of Massican expansion. Not only expansion for volume, going from 4,500 cases to 6,500 cases, but also the expansion of grape varieties in my portfolio. Historically, I had Tocai Friulano, Ribolla Gialla, Chardonnay, Sauvignon Blanc.
I've added Pinot Grigio, Pinot Bianco, Greco, and then in 2022, I added Falanghina, more Greco, Cortese, Muscat. I want to keep growing these Italian grape varieties.
So you're sticking with white grapes?
Well, last year I did use some Pinot Noir….
I've historically been working with Pinot Bianco, and the three vineyards I've been working with have all gotten sold in the last five years and I've lost the contracts for the grapes. And I was in such dismay going into this past harvest not having any Pinot Grigio or Pinot Bianco that I bought Pinot Noir and made Pinot Bianco out of Pinot Noir grapes.
I pressed it very gently. I had to take a red grape and make it a white grape.
Do you harvest early for that?
I probably could have harvested a week earlier. It was something I was offered late in the season.
I'm very bad at doing chemistry. I'm not someone who does a lot of samples in the vineyard. It saves me a lot of stress and money.
I tend to be on the earlier side of the acid profile and I'm working with grape varieties that shouldn't be here — some northeast Italian varieties that love cold and wet, not hot and dry. So I have to pick on the earlier side to preserve the acidity.
Grape vines do the same thing every year. I've been working with some of these vineyards for 10, 12, 13 years and I know when things are ready based on the seasonality. I don't believe there is a perfect time to harvest.
When you are looking for new grape varieties, do you think of them in terms of climate change?
A hundred percent. I think climate change will have a bigger impact on red wine grapes because red wine grapes are so dependent upon the maturation of the seeds and skin, extracting that flavor into your finished wine.
The climate is going to have an impact on how those grapes mature on the vine differently than with white grapes. With white grapes, the goal is a balance of sugar and acid and the DNA in the flavor profile of the variety itself.
I feel like I'm in a pole position because I don't rely on red wine grapes.
How did your most recent foray into non-fungible tokens come about?
An NFT is a transactional contract that points to something. When the NFT marketplace came out, there was a lot of talk about fake news and facts and lies, and the blockchain was promising factual information through full transparency.
In the last few years, the blockchain community brought NFTs to light through digital art. Now, I'm working with an artist out of Los Angeles, Amber Vittoria, to redesign the Massican label.
She tasted all of my wines and then she put color to the flavors and style. Now I have these digital images that I'm going to be giving as a gift to those who purchased Massican on the web. So you'll receive a free digital collectible of the Massican art label that you can then mint as an NFT and bring into your own crypto universe.
Can you tell me about the vineyard that you're planting, and tracking on a blockchain?
This spring we're going to plant a vineyard and record every piece of information that happens to that vineyard on the blockchain so that the data is open, it's transparent and it's available for anyone to read.
When the bottle of wine lands in your hand, you as a consumer will have the opportunity to look on the blockchain and review everything that's ever happened — from the day the roots go in the ground to the day you purchased it. Then once you pull the cork and drink it, you can probably record that too.
It's a long-term project — it won't have consumer viability until the wine is made in five or so years — but I truly believe it's the future of everything.
How do you see the metaverse? And what are your plans to bring massican into it?
I think people are afraid of the metaverse. They think it's about wearing goggles and having some weird Mark Zuckerberg experience. But it isn't like that.
If you visit the Bar Massican metaverse, it will give you the vibe of being in an antiquated European bar, stylistically. And you can hang out there, meet your friends — you're transporting your mind there and not your physical being.
People ask, "How do you drink wine in the metaverse?" The same way you drink wine in a virtual zoom tasting — you sit in front of your computer and drink wine. Only now you're seeing yourself in an actual bar as opposed to watching yourself in a box.
I wholeheartedly believe in access to information and people through a visual platform. As a kid, magazines transported me places. To me, the metaverse is no different. It gives you an experience that brings you somewhere else.
Can you describe your marketing strategy? Do you think a lot about your consumer demographic?
When I think about Massican, I don't think about how old you are. I think about what your alternative options are. How can I make something that's lighter, brighter, fresher, and at a price point that makes sense for multiple generations interested in wine?
I go back to thinking about how much the wines cost me when I lived in Italy, drinking local wines out of the pitcher on the table that costs three, four euros per half-liter — that is not necessarily the same experience Napa Valley vibes on.
As an industry, we've done a bad job educating people. We've done a bad job bringing them into the mix.
Massican is an opportunity for an Old World experience that is potentially more nostalgic, inclusive and modern at the same time. It's about lifestyle, curiosity, adventure and going outside of your comfort zone.